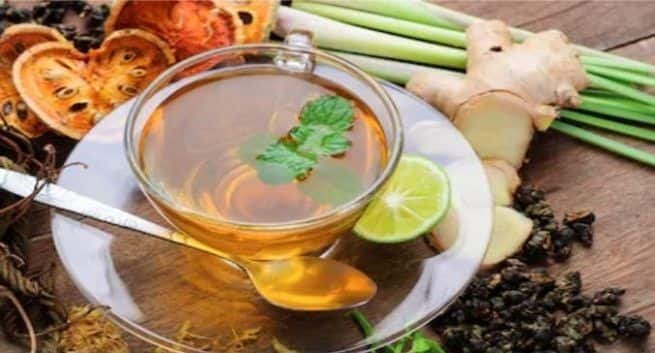 In winter, we look for warmth by buying woollen clothes, setting up bonfires and turning on the heaters. But if there is one thing that will actually give you warmth from within your body, it is what you eat. This is why in winter, we eat a lot of 'hot' foods like ginger, sesame, honey, chillies, amla and others.  Here are some drink recipes you must have in winter to not just feel warm but also up your immunity.
Spiced Herbal Turmeric Latte
Preparation Time: 10-15 mins
Serves — 2
Ingredients
Tisane made with turmeric, saffron, coconut, cardamom, ginger (12 grams)
Fresh water: 2 ½ cups or 21 oz
Almond milk / Coconut milk / Low fat milk: ½ cup or 4 oz.
Nutmeg powder: a pinch
Sugar: 2 – 4 tsp
Brewing Instructions:
Heat 2 ½ cups or 21 oz of fresh water in a kettle up to 185°F – 194°F (85°C – 90°C).
In a separate saucepan, pour in ½ cup of almond milk / coconut milk / low fat milk and bring it to a boil. Remove from heat once boiled.
Now add in 2 tbsp. of turmeric saffron herbal tisane and a pinch of nutmeg powder to the kettle. Let the tea simmer on medium to low heat for 3 minutes.
Add in the freshly boiled milk (of your choice for vegan and dairy options) to the kettle and add in sugar. Let the mixture simmer on low heat for another 3 minutes.
By Bala Sarda
Ginger Chai
Ingredients
1 medium piece ginger
Water
1 tsp Honey, tusli leaves, lemon juice (optional)
Method
• Take a medium piece of ginger, wash and peel it.
• Now, grate ginger or chop it into few pieces.
• Add these ginger pieces to a cup of boiling water and steep it for around 10 to 15 minutes.
• Allow this mixture to cool a little, strain and drink.
• You can also add honey, tulsi leaves and lime juice (it's optional).
Masala doodh
Ingredients:
5 cups milk
Pinch of saffron
1/4 tsp green cardamom powder
A pinch of nutmeg powder
5 tbsp sugar
15 almonds (blanched and ground)
15 pistachios (blanched and ground)
Method:
Boil milk in a non-stick pan till the milk reduces and thickens.
Add saffron, green cardamom powder, nutmeg powder and sugar, and simmer for sometime.
Add almonds and pistachios and mix well.
Serve hot or cold.