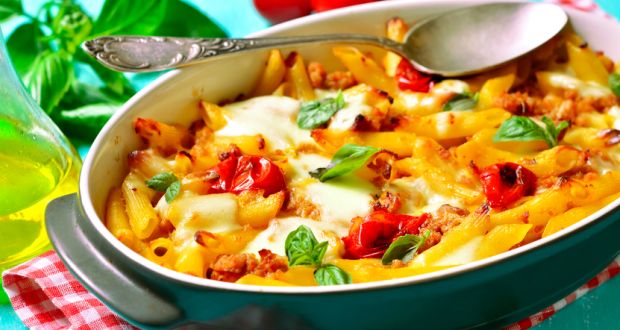 Pasta mingled with a fresh veggie mix, some tangy tomato puree and lots of cheese. Topped with breadcrumbs and baked golden, this Home Style Baked Pasta comes with a cheesy surprise and loads of vegetables. Now is there anything more comforting than an authentic Italian, cheesy, hot, vegetarian baked pasta casserole?
Ingredients Of Home Style Baked Pasta
200 Gram Any short pasta
2 Tbsp Olive oil
1 Medium Onion, chopped
1 Tbsp Garlic (minced)
1 Cup Mixed bell peppers
1 Cup Mushrooms, sliced
1 Cup Spinach (chopped), blanched
1 Medium Eggplant
1/2 Cup Mixed olives
1-2 Green chillies, chopped
1 Cup Tomato puree
2 Cups Mixed cheese, grated
1 Cup Cream
1/2 Cup Breadcrumbs
150 Gram Butter (cut into cubes)
How to Make Home Style Baked Pasta
1.Cook the pasta in boiling salted water for about 9 to 11 minutes.
2.Drain and lay on to a tray/plate.
3.In a heavy bottomed pan, heat up some olive oil.
4.Add the onions, garlic, chillies and saute them for 2 minutes.
5.Add the bell peppers and eggplant and saute for 2 minutes followed by the mushrooms, olives and the spinach.
6.Let this cook for 5 minutes. Then pour in the tomato puree and the cream.
7.Season to taste. Take the pan off the stove and mix in the pasta.
8.Then mix in half the cheese. Pour the mixture into a greased baking dish.
9.Sprinkle the rest of the cheese evenly topped with the breadcrumbs. Add the cubes of butter over and let it bake in the oven for 20 minutes at 160-180 degrees.
RECIPE NOTES
You can add a side green salad and perhaps some toasty garlic bread to make this a perfect meal.