In its way, the NFL pioneered sports broadcasting. It wasn't the first professional sport league in the US to take advantage of the tube—Major League Baseball beat it to both network and cable television—but it always maximized the medium better than any of its competitors. From its first league-wide network contracts in the 1960s to its expansion to satellite TV in the '90s, pro football has secured its foothold in America's living rooms so thoroughly that it's now the primary way fans connect with the game.
Curiously, the NFL has fumbled its presentation on those other screens that dominates 21st century culture: Computers, tablets, and mobile phones. To date, the league has merely dipped its toe into streaming live games. That may change soon, however, as this season it will broadcast a game globally via the Internet only. It will also—temporarily at least—lift its 42-year-old blackout policy for local broadcasts.
Thanks to these developments, there are now more ways than ever to get your football fix as the season gets underway in earnest today (the season officially opened on Thursday, September 10, with the exciting game between the Pittsburgh Steelers and the Super Bowl champion New England Patriots).
Here's our guide to all your options.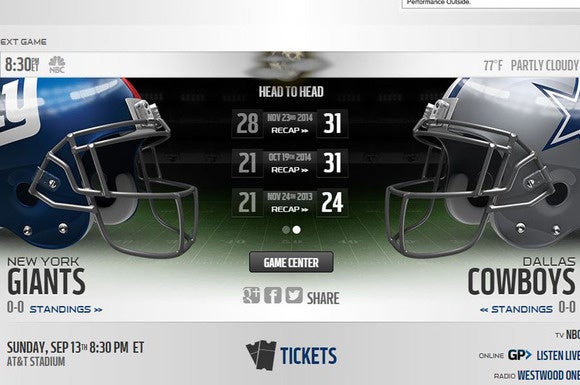 Over the air
Unlike the NBA, NHL, or MLB, the NFL plays a simple 16-game schedule with each team playing one game a week. That lends itself to fairly predictable TV programming. The league splits the Sunday afternoon telecasts by conference: AFC games air on CBS at 1 p.m. and 4:25 p.m. ET, and Fox runs the NFC games at 1 p.m. and 4:05 p.m. NBC retains the popular Sunday Night Football broadcast, which kicks off at 8:20 p.m. ET.
This year ESPN celebrates its 10th season broadcasting the iconic Monday Night Football game (it took it over from ABC in 2006), which kicks off at 8:30 p.m. ET. For the season opener, however, the cable network will be broadcasting a double-header, with the first game starting at 7:10 p.m. ET and the second at 10:20 p.m. ET. (If you don't have a cable subscription, you'll need to sign up forSling TV to watch ESPN.)
Thursday Night Football returns to CBS for a second year. Beginning Sept. 17, it will broadcast seven games, which will be simulcast on the cable-only NFL Network. The league's flagship channel resumes sole ownership of Thursday night games from Nov. 5 through Dec. 26, with the exception of Dec. 3 when both channels with broadcast the division matchup between the Green Bay Packers and Detroit Lions.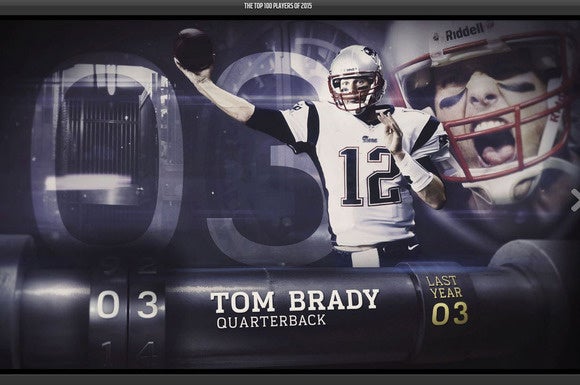 If this abundance of TV offerings has your head swimming like you just took abone-crushing hit from Kam Chancellor, check out 506Sports.com or Sports Media Watch. Each site lists which game is on what channel for each week of the season. Bookmark them for easy access.
Bye bye blackouts
Undoubtedly the biggest development for NFL fans this season is the league's lifting of its longstanding—and controversial—blackout policy . Since 1973, pro football's broadcast rules maintained that a home game couldn't be televised in the team's local market if it wasn't sold out 72 hours prior to kickoff. The blackout policy was the strictest of the four major North American sports and the bane of every team owner ( Miami Dolphins owner Stephen Ross famously bought up unsold tickets for years to circumvent TV blackouts) and fan.
Now that billion-dollar broadcast deals make football more profitable in the living room than in the stadium, the NFL is at least entertaining the idea of jettisoning its archaic policy by suspending it for this season. After the season, it will evaluate the suspension's impact and decide whether or not to do away with blackouts permanently. Stay tuned.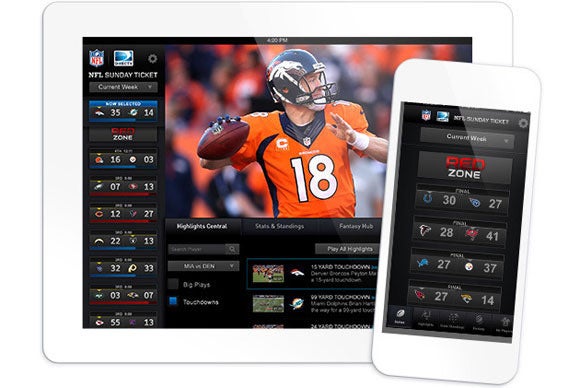 Cable and satellite TV
You can catch every down your home team plays this season just watching over-the-air broadcasts; but for expanded offerings, cable and satellite are still the way to go.
In addition to the NFL Network, many pay-TV providers continue to offer NFL'sRedZone Channel. Hosted by Scott Hanson and existing only for about a seven-hour window each Sunday, RedZone airs nothing but the day's highlights (mostly touchdowns, as the name suggests) at a frenetic pace that perfectly evokes the adrenaline rush of a game-winning drive.
Both NFL Network and the RedZone Channel are available online as well. You can access them if you're a cable subscriber and your cable company is listed among the providers. That caveat leaves out Comcast subscribers—the company still isn't on the list of provider participants despite the fact that it continues to offer both channels in its cable packages.
Among the hardest-core football fans,NFL Sunday Ticket, which gives you access to every regular-season Sunday afternoon out-of-market game, is as coveted a prize as the Lombardi Trophy. However, it remains the exclusive property of DirectTV as the satellite providerrecently extended its rights to carry the package for another eight years.
But if you're a DirectTV subscriber and willing to shell out $252 on top ofyour regular subscription fee, you can get all 2015's out-of-market Sunday games plus the Mix Channel, which lets you watch four or eight live games on a single channel, and its Player Tracker, a fantasy footballowner's dream that lets you keep tabs on up to 20 players.
Or for about $100 more, you can get the $354 NFL Sunday Ticket Max, which throws in NFL RedZone Channel, Direct Fantasy Zone (a channel devoted entirely to fantasy football), Short Cuts (entire games condensed into 30-minute commercial-free replays), and the ability to stream live games through the NFL Sunday Ticket app.
Streaming
You don't necessarily have to be a DirectTV subscriber to stream live games this season. Last year, the provider introduced its NFLSundayTicket.TV app andextended discounted subscriptions for online access to NFL Sunday Ticket tosome non-DirectTV subscribers: (very) specifically, apartment dwellers; residents of metropolitan New York, Philadelphia, and San Francisco; and students at 10 select universities.
This season, DirectTV is extending that discount offer to all four-year colleges and universities. It has also expanded the list of devices games can be viewed on to include Google Chromecast, Xbox 360, Windows 10 and Roku. (Previously, the package was only viewable on Android and iOS devices or via the web, as well as on Sony PlayStation 4 and PS3, and Xbox One.) For information on packages, pricing and eligibility, check out the NFLSundayTicket.TV FAQ.
Outside of DirectTV, legal streaming options for NFL games are still limited. Since 2008, NBC offers an interactive broadband broadcast of its televised games, as it has since 2008, and Verizon subscribers with More Everything plan can live stream all nationally broadcast games through the NFL Mobile app.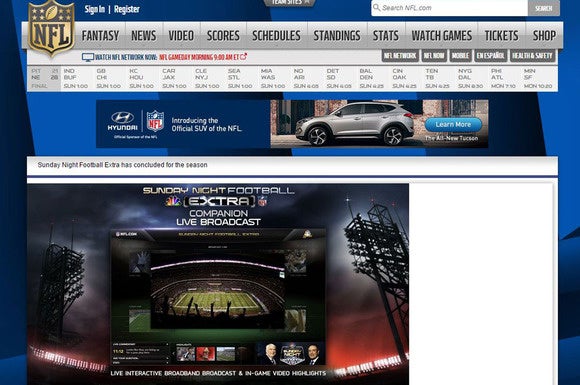 Fox will stream 104 live NFL games this season via its Fox Sports Go app and FoxSportsGo.com website, but you'll need a subscription to a pay-TV provider that carries Fox Sports (you'll find all the details in this story ).
Signs are afoot, however, that may soon change.
This season, for the first time ever, the NFL will live stream a regular-season game for free to a global audience. For this groundbreaking event, the league logically chose one of its International Series games in London: the Oct. 25 game between the Buffalo Bills and Jacksonville Jaguars will be streamed exclusively by Yahoo! ( Google, Apple, and Amazon were among those the league reached out to) and only televised in each team's home market. A 30-minute version will also be available on demand.
Given both teams' records for the last several years, the broadcast itself is really the most interesting thing here. Though the NFL has said it hasn't decided whether or not it will partner with a streaming service provider for future games, this experiment clearly indicates the league is finally making steps toward finding an over-the-top distributor for its games.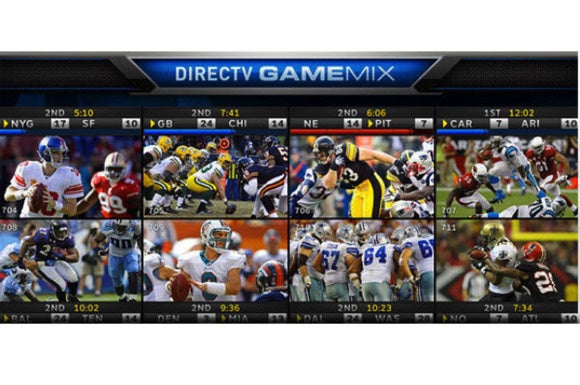 And that's good news. Super Bowl streaming set another record this year, with 1.3 million people watching Super Bowl XLVIV through NBC's web stream instead of on TV. While that represents just a tiny fraction of all Super Bowl viewing, it shows that there is an audience willing to embrace alternatives. If the Oct. 25 event is deemed a success, perhaps the NFL will make a more serious commitment to live streaming and set a new bar for broadcasting sports in the 21st century just as it did in the 20th.
Looking for even more ways to watch the game this season? Don't miss our roundup of second-screen apps, and our complete cord-cutters guide to watching football.